Show your support during WMUK's Fall Campaign.
Select the method by which you wish to give: choose donate with a credit card now, or select make a pledge:
Option 1: Make a Secure Credit Card Donation
Option 2: Make a Pledge and Receive a Reminder
If you prefer to donate by mail, we will mail you a form for use with a credit card or you may send in your check.
Get even more than great programming with the WMUK Member Card!
Members contributing $120 or more can receive 2-for-1 savings at 130+ Restaurants, Performances and Attractions! Read More...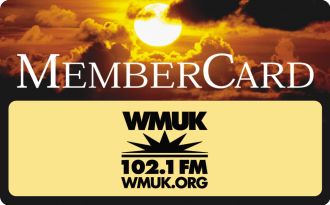 Donate Your Vehicle

Employer Matching Search
Search below to find out if your eligible for employer matching, then donate using your preferred method and include your employer registration number to have have your gift matched!